My Schedule for 2007
late March England (London)
late March Mannheim, Germany
April USA
May - July Vienna, Austria
mid May The Netherlands
June Wuerzburg, Germany
late July Salzburg, Austria
August Vienna, Austria
October Vienna, Austria
late October Rumania
The Traveling Shaman
I travel and lecture quite a bit. I journey frequently to both coasts of the United States and to Europe. This includes California, Washington, Virginia, Maryland, Washington DC, England, the Netherlands, Denmark, Spain, Germany and Austria. Obviously I am open to exploring other areas. Feel free to contact me to find out the latest schedule.
If you gather enough people (5 - 12 or more) for programs and individual sessions, I am willing to travel to you. I offer many topics, seminars and programs. Please ask.
Besides the spiritual journeys described within these web pages, please look at my other interests and offerings too!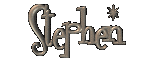 blessings,

Stephen Russell Poplin, M.A., CHT
Stephen Poplin's LBL sessions http://members.aol.com/lifebetween/
Past Life Regressions http://members.aol.com/hypnoshow/regress.html

My current address, contact details:

Nusswaldgasse 19/ 2A
1190 Vienna, Austria

Phone in Austria: +43 (0)1 36 89 718
Phone in Germany: +49 (0)621 307 2548
USA phone, message machine: (202) 558-0363

You can also contact me at stephen@transpersonal.us


~ ~ ~
Though we travel the world over
to find the beautiful
we must carry it with us
or we find it not.

- Ralph Waldo Emerson

Electronic mail

General Information: CompanyEmail