On February 16th, 2007, our founding member Paul Smith left this world. He had stopped smoking six years earlier, but the tobacco got him anyway.
Paul was loved by everybody who met him. We miss him immensely. See the webpage dedicated to his memory!
Paul Smith, 1936-2007
Am 16. Februar 2007 hat unser Gründungsmitglied Paul Smith diese Welt verlassen. Sechs Jahre zuvor hatte er zu rauchen aufgehört - nun holte der Tabak doch noch sein Opfer.
Jeder, der Paul kennenlernte, liebte ihn. Wir vermissen ihn unendlich. Lesen Sie die seinem Andenken gewidmete Webseite!
On May 29th 2007, Ken Ogger, pen name "The Pilot", was found dead in his swimming pool.

He was a very outspoken dissident of the Church of Scientology, and pioneer of the Free Zone.

According to witnesses, his hands were tied with wire and a weight attached to his feet. The police denies the tied hands and treats the incident as a suicide.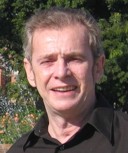 Ken Ogger, "The Pilot"
Am 29. Mail 2007 wurde Ken Ogger, bekannt als "Der Pilot", in seinem Swimmingpool ertrunken aufgefunden. Er war ein prominenter Dissident der Scientology-Kirche, und Pionier der Freien Zone.

Laut Zeugenaussagen waren seine Hände mit Draht gefesselt, und ein Gewicht beschwerte seine Beine. Die Polizei bestreitet die gefesselten Hände und betrachtet den Vorfall als Selbstmord.